News and business intelligence for asset management professionals
Our membership service provides US asset management professionals with vital and actionable intelligence across all parts of the modern fund complex.
Already a member? Please login
Informed coverage across the entire fund industry
Designed with a focus on clarity and simplicity, we allow members to prioritize their specific areas of professional interest whilst also keeping abreast of key developments that are setting the agenda across the sector.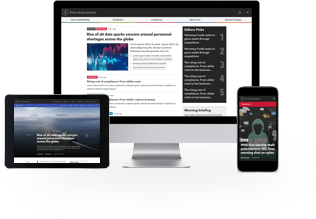 Sales & Marketing
News on product developments by peers and adviser/analyst reaction to them, informed analysis on distribution and advertising strategies of leading fund groups and intelligence on where flows are going and why
News and analysis on new product developments accompanied by informed independent commentary assessing their likely impact
Interviews with leading sales and distribution professionals offering competitor intelligence on the tactics, team structures and priorities of the sector's biggest names.
Analysis of where the money is going and where it is leaving, allowing fund groups to benchmark where they stand in the fund flows game, understand the winners and losers and isolate opportunities for growth
In-depth coverage of advertising and marketing campaigns executed by leading fund groups in a world of increasing digitization and content-driven ads
More details
Distribution
Discover actionable intelligence on investment approaches guiding key allocators, their decision-making processes and how evolving technology, regulations and market trends are shaping the distribution landscape.
Actionable intelligence on the investment approaches being taken by key allocators including wirehouses, large RIAs, DCIOs, regional BDs, Tamps and ETF strategists.
Informed analysis of evolving trends in the distribution space, driven by both the demands of regulators and investors, and the impact these will have on the sales strategy of fund complexes.
A breadth of coverage which includes a strong focus on the private wealth, family office and HNW space and opportunities for asset managers to build long-term relationships in these fruitful areas
Strong coverage of the way technology is changing the interface between fund groups, distributors and the end investor, including the impact of robo-advisers and online investing tools
More details
Business Strategy
Guide strategic decision-making with in-depth coverage of wide-ranging industry trends, developing opportunities, business threats, CEO interviews and coverage of key M&A activity to give you the full picture of an evolving sector.
Fund group CEOs and other C-suite business leaders in their own words setting out their strategy, views on growth opportunities and structural changes being undertaken
Analysis of how fund group leaders are handling wider industry trends and the impact big decisions will have on the running of modern fund complexes
The informed views of respected independent consultants, analysts and other industry experts on the threats and opportunities facing the sector.
Detailed coverage of M&A activity taking place in the sector and analysis of the impact of current and future deals
More details
Wealth Management
Gain exclusive insight into the HNW, UHNW and family-office space, including manager selection processes, as evolving business models, advancing technology and increasing professionalism reshape these valuable segments.
Latest developments in the world of single and multi-family offices, top-end RIAs and private banks
Community and networking opportunities through our Private Asset Management brand
Interviews with leading wealth management names, discussing evolving business models, advancing technology and investment
In-depth analysis on the shifting wealth management landscape, including the professionalization of the family office space and growing power of independent firms
More details
Product Development
Description from Editorial: "Monitor the product development strategies of leading asset managers when it comes to new launches, closures, evolving fund structures, product revamps and fee innovations.
See how FI membership can benefit your firm
Events and Networking
Discover our exclusive event platform driving better business decisions and connecting the community
Our closed-door, off-the-record environment is peer-led, and content driven. A range of events includes everything from corporate summits and regional conferences to more intimate breakfast briefings, dinners and workshops, allowing all fund professionals the opportunity to update their knowledge, meet with peers and build their business contacts.
Testimonials
Fund Intelligence is integral to our day-to-day decision making. It keeps us up-to-speed with what is taking place in the market and allows us to be pro-active rather than reactive"
COO at New York-based mutual fund management firm
The information generated by Fund Intelligence has informed all aspects of our business. From our head of compliance and trustees to the marketing team, we rely on Fund Intelligence's insight to help us make the right decisions"
CEO at Boston-based mutual fund management firm
Become a Member
Join our community of US asset management professionals and discover how Fund Intelligence news, analysis & insight on key operational functions helps you make informed decisions.
Fund Directions
For your mutual fund board
Covering the latest regulatory, market and litigation developments that board directors need to stay on top of, Fund Directions offers market-leading insights on the governance priorities of independent fund directors. Coverage and events focus on the increasing regulatory and legal demands being placed fund boards and how leading directors are tackling a range of important governance issues.